Sometimes, it is still the oldest beauty regimes that proved to work the best. Jade rollers have been used by empresses and members of high society in China since the 17th century, but have recently experienced a boost in popularity in the U.S.
What is a Jade Facial Roller? It is a paint roller-type tool for the face made from solid jade stone that's been able to decrease puffiness and under-eye circles, and even minimize the look of fine lines.
Jade is more than just a precious stone, it comes with lots of healing properties too. It is naturally cool to the touch and great for helping reduce puffiness.
The roller comes with two ends - a larger side and a smaller side. The larger side is used for the larger areas of your face (cheek, jaw, forehead) and the smaller side is used for smaller areas of your face (under eyes, brows, etc.).
Benefits of Jade Rolling:
There are numerous benefits of jade rolling, this is why you should do it:
Reduce puffiness:

 S

ometimes you wake up with extra water and your eyes might look puffy. Jade rolling is perfect for this. Since it's cool, it helps to reduce puffiness!
Lymphatic drainage: The method for jade rolling is to roll towards your lymph nodes (right by your ears). That is helping to drain your lymph which can help reduce wrinkles, improve detoxification, and help with skin disorders.
Reduce wrinkles:

 J

ade rolling is also great at reducing wrinkles and fine lines. While it might not get rid of them completely, it can really help reduce the appearance.
Helps with jaw tension:

 If you

 carry a lot of tension in your jaw, jade rolling every night can help you tremendously. Think of it as a deep tissue massage for your face! You're digging into those facial muscles, loosening them up and reducing tension.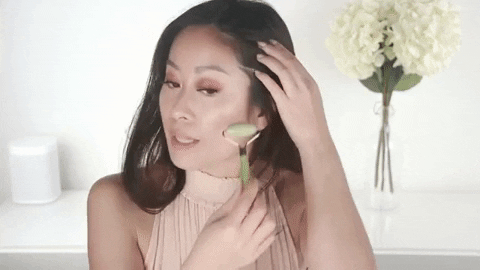 How to use a Jade Roller:
To start jade rolling, you'll need just a few tools: a face wash, a moisturizer/facial oil and a jade roller. Once you have those assembled, it's time to get rolling!
STEP ONE:

 W

ash that beautiful face of yours! You want a clean face before you jade roll.
STEP TWO:

 M

oisturize! Many prefer the use of facial oil because it adds even more moisture, but if those don't work for your skin, you can just use whatever moisturizer you like best.
STEP THREE:

 R

oll it out!
Disclaimer: Different rollers may vary in color, as every jade stone is unique and non-identical.