"Herb Stripping Tool? Never heard that one before." Until today!
De-stem kale and strip herbs quickly and easily with one well-made tool. Crafted and made in the USA to last a lifetime, the Kale Razor's sharp blade shears off kale, collard, and mustard green leaves, and it has six differently sized holes to strip herbs like rosemary and thyme.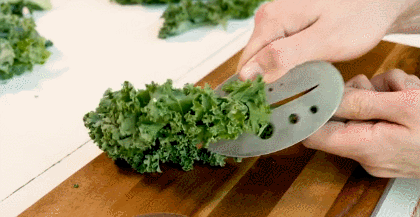 Features:
Made in the USA: Buffalo, NY
Materials: 304 food-grade stainless steel made from 60% recycled content
Care: Dishwasher safe
Perfect for making kale chips & preparing a variety of herbs
Six pre-sized holes plus accommodate a variety of herbs and kale of all sizes
Fully stainless design free of plastic components
Specially designed to shear kale, collard greens, and mustard greens with ease
Great for using with rosemary, thyme, tarragon, parsley, oregano and more
Please note: Sharp edges, keep out of reach from children
Dimensions: 2.75" x 4.5" x 0.06"
Weight: 0.15 lb.