This Foldable Chopping Board definitely makes your life easier in your kitchen! Easily chop and just pour out without a mess and conveniently.
Laid flat, it provides a knife-friendly cutting surface for all types of food preparation. But when the handle is squeezed, the sides of the board fold up, forming a convenient chute down which chopped food or waste can be neatly guided.
It features durable 'living-hinge' technology to achieve its transformation and non-slip feet. This innovative kitchen tool also provides a durable, knife-friendly cutting surface for long term use.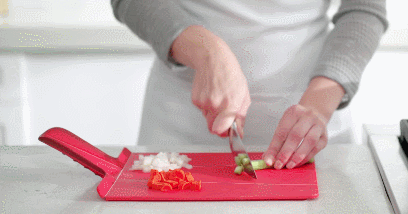 Features:
Dishwasher safe.
BPA & Food safe.

Odourless, easy to clean, no water or oil absorption.

Hanging hole design, easy to store, not easy to slip

High and low temperature resistance, bendable, doesn't corrode easily.