With this DIY Lemon Spray Gadget, now you can change your spray flavors as you like!
Easy to make, just simply pop it into any small fruit and you're ready to go - as easy as 1, 2, 3!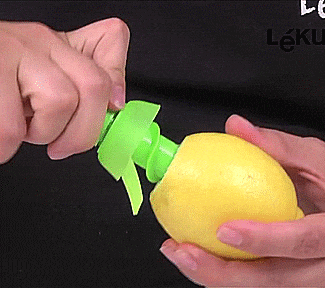 Features:
Set includes two sizes: one for bigger fruits like lemons, oranges or grapefruits; another one for smaller fruits such as limes or tangerines
Easy to use: screw-like design can easily be inserted and secured inside the fruit and the juice fills the filter through the holes in the sprayer
Comfortable: silicone ring prevents juice from coming out and the dish allows the fruit to stand when not using it
Dishwasher safe: made of ABS plastic and silicone 100% platinum stands up to 158F and 425F respectively
Detachable: comes apart completely for easy and thorough cleaning
Specification:
Material: ABS

Color: Green

Long Spray Size: 10 x 4.5 cm / 3.93''X 1.77''

Short Spray Size: 8.5 x 4.5 cm / 3.3''X1.77''

Mat diameter: 7.6cm/2.99''

Product Includes: 3 piece set.