Always worrying about washing your wine glass in the dishwasher because it tends to fall? Now you can be assured it will stay hold in your dishwasher thanks to the Dishwasher Wine Glass Holder!
This handy tool is designed to have a clip like holder on one side and a hole on the other to fit inside the existing tray in any dishwasher machine. Just a simple 2 step motion to keep your wine glass clean and in one piece - definitely a must have for all you wine lovers out there.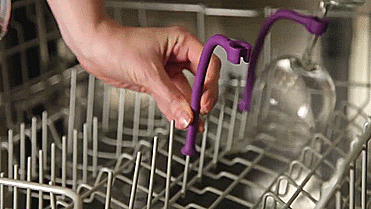 Features:
Hollow base slides over dishwasher post.
End clasp clips onto wine glass stem.
Adjust the rod to fit the glass on either the top or bottom rack of your dishwasher.
Comes in purple.
Comes in a 4x Pack.