Ever wondered how you could have those amazing eyebrows that celebrities or models have? The secret that will make your eyebrows as beautiful lies behind this amazing 4 in 1 Magic Eyebrow Pencil.
Define & highlight your brows with our versatile 4 in 1 Magic Eyebrow Pencil. This multi-tasking brow pencil features a lighter brow shade and deeper brow shade to give your brows depth & dimension, plus an edge definer and arch highlighter to clean & shape your brows. Turn shapeless, flat brows into defined, contoured brows in an instant! Available in multiple shades for a wide range of hair colors and skin tones!
The pencil includes 2 shades to fill in your brows, a lighter shade to fill in the front and a deeper shade for the end, an edge definer that acts like a concealer to clean up around the edges and a highlighter to accentuate the brow arch.
Features:
Easy brow contouring.
4-in-1 brow pencil.
Blendable formula.
24-hour longwear waterproof.
Available in 3 different shades to suit your hair color and skin tone.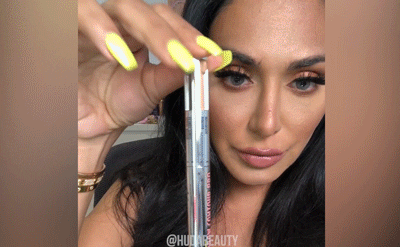 How to use:
Press down on the lighter shade tab & twist until you see product. Fill in brow with the LIGHTER SHADE from start to arch. To switch shades, just press down tab of selected shade until it clicks in place & twist for product. Next, fill in brow with the DEEPER SHADE from arch to end. Then, stroke the DEFINER below brow from start to end & above brow from arch to end. Blend gently. Last, apply the HIGHLIGHTER beneath your arch & blend outward!

Beauty tip: Don't forget to blend! Use your favorite brow sponge to blend the lighter shade & deeper shade through your brows.